A bust of Herman B. Wells, president of Indiana University Bloomington from 1938 to 1962, and chancellor from 1962 to 2000, was unveiled at IU Bloomington's Herman B. Wells Library October 19, 2007.
Wells is widely credited with transforming IU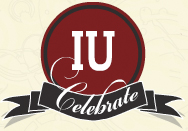 into one of America's great public universities, and is fondly remembered for his cheerful, welcoming presence. The bronze likeness sculpted by Marc Mellon greets thousands of students and faculty each day, positioned squarely at the entrance to the Wells Library.
Speaking at the dedication were Indiana University President Michael A. McRobbie and Patricia Steele, Ruth Lilly Interim Dean, University Libraries. Curtis R. Simic, President and CEO of the Indiana University Foundation, and sculptor Marc Mellon, jointly unveiled the bust.
Mellon's bust of Herman B. Wells is one of five the University has recently commissioned the artist to complete. A bust of Bill Armstrong, former president of the IU Foundation, was unveiled at IU's Bill Armstrong Stadium in 2006. Three additional Mellon busts of prominent contributors to IU's growth will be unveiled in 2008.
University President McRobbie graciously introduced the artist as "one of America's leading representational sculptors in bronze." In creating the bust, Mellon worked with available photographs and film of the late educator. "It was a singular pleasure to capture Chancellor Wells' well-known good nature, that special twinkle in his eye . . . and an honor to have images of such an extraordinary leader as my company in the studio."
To view the invitation for the Unveiling please click here.